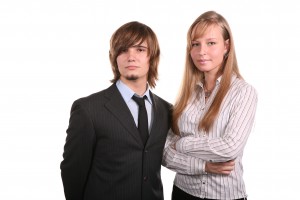 The debate rages on about the merits of the millennial generation as this satirical video of a group of millennials apologizing for their failures went viral this week. It seems as if not a month passes without a prominent media outlet writing about the hardships, merits, or weaknesses of this generation of workers. The debate has not matured. Our President Gerlinde Herrmann wrote the article posted below for HRPA in March 2010, yet her advice to clients has not had to change: take advantage of what this generation can do, not least of all because they are the future of your company.
"The younger workforce/new grads, those generally in the 20-25 age group, are a generally underutilized part of the labour pool.
Over the last two years, many new grads have had frustrating job-hunting experiences. Companies have reduced job openings and when they have them, they ask for very specific experience — even when hiring contract or part time. Co-op, work terms and intern opportunities have also been scarce. Often these well-educated new workers have had to resort to making lattes, selling jeans or at best doing part-time work within their fields.
Even when there is potential work, many employers are hesitant to employ from Generation Y because it is felt that their expectations are unrealistic. Such concerns as: Are they willing to do the "grunt work" and pay their dues? Are they willing to do the job whatever it takes which can well mean longer hours? Can they take supervision? Do they need continual positive reinforcement (having received that from parents and teachers for so long)?
Yet, we can't afford not to engage these bright young hopefuls. Somehow, it has been forgotten that before we entered this recession we were well aware of a looming talent shortage. Talent! Which every organization needs to stay in the game and succeed — especially after this latest grueling downturn. It's no longer business as usual and without the appropriate talent how can one lead with strength? Many organizations have taken their collective eye off the talent crunch. These "kids" are our future and we haven't brought them onboard enough to start filling the pipeline.
With all that in mind, what can this underutilized workforce do? They can: Demonstrate the "can-do" attitude and exuberance of youth. Be willing to take a job to prove themselves and understand that promotions need to be earned. And, an important advantage – they can use their almost instinctive tech skills to help the business. Show where there's "an app for that"! The added advantage for an employer is their need for interesting work and challenge. This is a great time to combine a number of requirements in roles."
What has your experience with millennial workers been?
Further Reading