Reduces upfront costs: check.
Perk for many employees: check.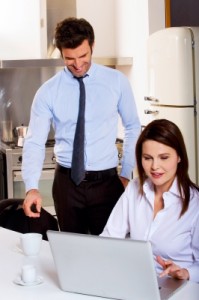 Working remotely is sounding pretty good so far. But with the good comes the bad, and for some companies remote work is either simply not worth it or requires a lot of strategic consideration. Here are five things I often tell my clients about remote work:
1. Remote communication leaves room for misunderstandings
A poorly worded email can quickly send an employee spiralling in to uncertainty. Take this email, for example: "Return this to me with edits by 5:00pm". Was this email written in a rush, from a desire to be clear about expectations, or out of dissatisfaction? Without seeing the person's mood, body language or tone – it's quite hard to tell. Even a phone call can leave an employee feeling anxious if the person they were speaking to on the phone was unknowingly distracted. Remote workers must be excellent communicators or miscommunications, hurt feelings, and ultimately low morale can run rampant.

2. Technical issues can hinder productivity
I know the ins and outs of this one better than most. In order to stay up to date with the latest HR trends, I spend a lot of time connecting remotely from conferences or between board meetings. Though our office spends a great deal of time and resources on tech support, being unable to connect to our database or a sudden computer glitch has been known to happen. Technical issues disrupt productivity at the best of times, but when working remotely the time sink is much greater.  In an office environment tech support is  on hand (or at least several people to bounce ideas off of), you can borrow a colleagues computer or use an empty office in a pinch, and being able to access company resources or databases becomes less of an issue. If you do promote working remotely, invest in your remote functionality and ensure that your employees are well acquainted with troubleshooting their computers or know whom to call in case there are issues.
3. Relationships are best built in person
In a similar vein, it's very hard to really get to know someone over email. Over the phone it's a bit easier, and skype even better… but trust and camaraderie is much more easily fostered in person. Holiday parties, birthday lunches, pay-day after-work beers, picking up a coffee for a colleague, putting in late nights together to meet a deadline, showing off pictures of your recent vacation – these casual interactions all contribute to feelings of familiarity and trust. There's no question that colleagues work better together when they're comfortable voicing their ideas and challenges. If remote work is the direction your business is heading, you may want to budget for the occasional business-wide in-person meetings, or encourage your employees living in the same area to occasionally conduct their meetings over lunch.
4. Remote work can lead to low-motivation
Some people do work best given their own space with minimal interruptions, but research shows we're just not often able to effectively power through 8 hours of work without taking breaks. While at home breaks may mean a quick browse of personal websites or (in my case) organizing closets), office environments allow for more stimulating breaks like chatting with a colleague or going out to get a coffee. These types of breaks are more energizing, and provide opportunities to share ideas or problems. They also happen organically throughout the day, which helps to keep energy levels up and new ideas flowing. Except for the very few, we are social beings who need human interaction to grow and prosper. Remote work requires dedication and creativity to ensure this fundamental human requirement is met.
5. Water cooler talk is not just gossip
The fabled water cooler as a time sink, gossip center is unfair. Office gossip has been known to create miscommunications or ill feelings, but it's also a very important retention vehicle. It makes people feel a part of issues affecting the office, their industry and their colleagues – it creates a sense of loyalty to people and place. It also allows employees to understand issues that are occurring in other departments, which means they can adjust their work or solve an issue when appropriate. An office environment can make employees feel more committed and valued, remote managers must work harder to create a loyal business culture.
Remote work may be the best set-up for your business, but keep these five downsides in mind and adjust your HR strategy accordingly. As I tell clients, there is no one-size-fits-all solution when developing policy. It is a balancing act that requires strategic consideration of your environment, culture and workforce.