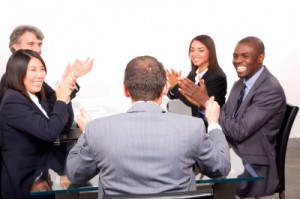 Change is coming slowly but surely to boardrooms across Canada as the push to see more women on boards gain federal attention. With only 10% of director roles being given to women, and not much change over the last 5 years, Canada is falling behind other OECD countries. I think TD Bank deputy chief economist Beata Caranci says it best: "it implies a market failure to appreciate the skills and perspectives that women can bring to the table." But it's more than simply a failure of the system, it's a lost opportunity.
A good friend of mine, Dr. Chris Bart, co-authored a study in which women scored higher than men on problems involving complex decisions. It seems that men are more likely to rely on traditional rules and regulations when making decisions, while women tend to challenge tradition and defined power structures. Someone who will push boundaries, question decisions, and solve problems creatively reads like a Board of Director's job description. Companies are losing out when they undervalue the role female directors can play.
In response, the Government of Canada has formed a committee to discuss how Canadian boards can be better equipped. Several ideas have been bounced around in the media over the last year including a quota system, voluntary target or a 'comply or explain' scheme. A quota system similar to that found in France and Norway would mandate companies to have a percentage of women on their board. Were we to follow in Britain's example a voluntary target system would ask companies to set a target and report on their progress, though no action would be taken if a target was not set. The Ontario Securities Commission broke the media tension on July 30th when it announced its proposal for a 'comply or explain' standard for publicly traded companies. It would mandate that publicly traded companies disclose their efforts in regard to diversifying their board in their annual corporate governance report. Its aim is to pressure companies to develop a policy by putting more information in to stakeholders hands.
The consultation paper, found here, is open for your comments until September 27th. While this is only the first step towards putting standards in place, increased pressure to see women at the board room table is a reality. Best to get ahead of this expectation and act now – Draw up a policy, a recruitment strategy, or give us a call. Who knows, you may just find yourself with a more well rounded and effective board.
What's your experience been with boards? What do you think of a 'comply or explain' system?
Globe and Mail Coverage
January 25, 2013 – An optimistic view of board diversity
March 6, 2013 – Financial services boards move toward gender equity
March 25, 2013 – Female board members better than men on complex issues: study
April 5, 2013 – Members named for committee to boost women in boardrooms
April 7, 2013 – Fix Canada's dismal record on appointing women to corporate boards
April 26, 2013 – To get more women on corporate boards, Canada must be bold
May 1, 2013 – Europe helps boost global growth of women on boards, but Canada little changed
May 28, 2013 – How the number of women on boards of directors has grown
May 28, 2013 – 'Comply or explain' a smart way to get more women on boards
May 28, 2013 – New rules aim for equality in Ontario's corporate boardrooms
July 30, 2013 – OSC proposes gender equity policy for boards